GLG Pharma, LLC has a pharmaceutical and diagnostic product engine that has already generated three lead compounds for interrupting the STAT3 proliferation mechanism in targeted diseases. The Company and its partners, not-for-profit foundations, have selected the target diseases that have no approved treatment regime at this time. Besides combining a diagnostic with a drug therapy for liver cancer patients with Alpha-1 antitrypsin deficiency, the compounds can also be used to treat Polycystic Kidney Disease (PKD) and the underlying hypertension associated with the advancing disease. We are seeking the support of both the Alpha-1 Foundation and the PKD Foundation along with their patient advocacy and scientific research groups to help raise money for GLG Pharma and their foundations to complete both missions: Get Approved Therapies to Market for Alpha-1 and PKD patients as soon as possible!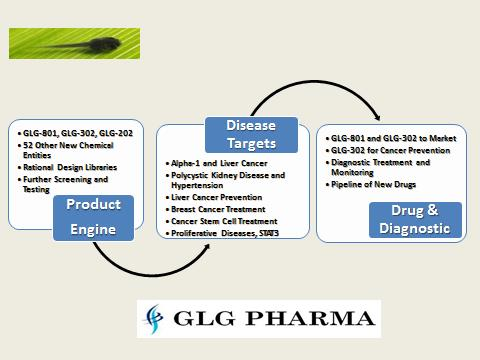 In addition, the National Cancer Institute's Prevent Program is supporting the evaluation of GLG-302 for long term prevention in Breast Cancer patients. The drug candidate, GLG-302 is performing remarkably well in NCI sponsored evaluations and is showing little to no dose limiting toxicities at very high dose (500 mg/kg when GLG believes that the therapeutic treatment is 25-75mg/kg) and long term treatments (now out to almost 90 day toxicity study with no side effects in the mouse and rat) in the animal models is very encouraging. GLG and the NCI are very excited by these results and will push together to make the therapy available to Breast Cancer patients for long term, preventive care therapy.
The real advantage for GLG therapies is a tailored diagnostic test to go along with the therapeutic treatment. This combination of Drug and Diagnostic along with the evolving cancer genetics data and the patient's genetic information, all this information can add to the focused treatment for specific diseases. While cancer remains the single largest therapeutic area, there are now well over 800 cancer drug therapies in development. Focusing on rare and under treated diseases helps speed products to market and then GLG will expand into therapies for cancer and the development of diagnostic tests. Since venture capital is nearly always focused on return on investment, capital available for long term therapy treatments has diminished considerably. GLG and Poliwogg believe that there is a better way to fund Biotech but we need your help, support and investment. If you don't invest in GLG, then donate to either the PKD foundation or Alpha-1 or do both. Your investment will be well managed and your dollars well spent!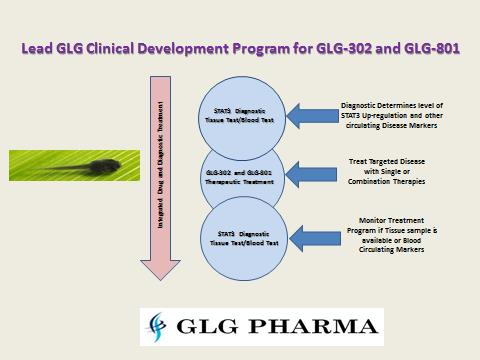 Poliwogg is a new kind of funding vehicle and we are using Regulation D 506(c) regulations. Want to find out more about the team at Poliwogg? Or want to listen to Greg Simon? Just click the links and your there!