Where is Healthcare Today for Cancer Patients? Who is your advocate?
Patient advocacy is all about having a representative voice in clinical treatment. For Stage 4 cancer patients, the following excerpt is just one example of where clinical care is being directed by groups that are looking to minimize patient treatment opportunities. Bush, who is still a young man, might think differently if he is faced with a life threatening illness. Kierkegaard called it in existential religious terms; the 'Leap to Faith' that often occurs for an individual at the death of a parent, spouse, and/or a child or when an individual is faced with imminent death. You can hear Bush's comments on:
Jonathan bush of Athena Health. Dec 20, 2013 07:26AM on CNBC's "Squawk Box"
"If you cut out stage 4 cancer care, because most interventions shorten your life and makes you more miserable. Cut out all the chronic care [insurance coverage] and offer it [insurance] at $300 and then everything else is an add-on"..." [This quote is excerpted from Bush's comments on the Affordable Health Care program and insurance and the state of health care in the United States; from his perspective.]
Jonathan S. Bush (born March 10, 1969) is the co-founder, Chief Executive Officer, and President of Athena Health; a Watertown, Massachusetts based health care technology company founded in 1997. In 2000, Bush raised more than $10M in venture capital funding to support Athena Health, which launched a successful IPO in 2007. Before founding Athena Health, Bush served as an associate of J. Bush & Company, Inc. and as a consultant at Booz Allen Hamilton, where he was a member of its Managed Care Strategy Group. Bush holds a Bachelor of Arts degree from Wesleyan University and a master's degree in business administration from Harvard University. In 1991, during "Operation Desert Storm", Bush served as a Combat Medic in the rank of Private First Class. He is the son of Jonathan Bush, cousin of former U.S. President George W. Bush, nephew of U.S. President George H. W. Bush, and brother of television presenter Billy Bush. Athena Healthcare highlights options for physicians on maximizing reduction in health care costs by recommending alternative treatment options. Today, Athena Health has a market cap of over $1.8 billion dollars.
While Bush's views on health care are not universal, the view does highlight what many healthcare pundits say is endemic with the industry, a parsimonious and conservative view of how patients should be treated and how much money should be allocated for their treatment. Groups like Kaiser Permanente offer My Doctor web site filled with information on cancer treatment options http://preview.tinyurl.com/kzcde8t as just one example of patient access to medical information. When a patient is fighting for their life; more information and top notch treatment or access to new therapies in clinical trials are sometimes what can make the difference. But someone needs to pay for that treatment and this is where the battle lines have been drawn. Cost versus treatment and access to treatment. Rich patient advocacy groups have been in existence for some time. A good example is 'Best Doctors'; http://tinyurl.com/o38tj9m offers supreme 'concierge' services for a price. Clearly, "Best Doctors" carry premiums and services that are outside of the Affordable Care Act health care costs and the budgets of most families. Only 23% of their clientele are in the US, all the rest are outside of the US. They are a first rate organization and bring real value to the patients who can pay but that isn't a model that is supported by the Affordable Care Act and is more in line with the rich will survive, the rest of us, well we have to make do with less.
While cost savings are important to health care treatment, parsing out money for 'approved' and 'unapproved' conditions is tantamount to social and economic status engineering where only the wealthy can get the treatment they need and that treatment is only reserved for those patients that can afford it or have access to the networks of professional medical groups that can provide those services to the selected few.
Also contributing to the lack of good and potentially new therapies for Stage IV cancer patients that could take a patient out of treatment and back into remission is the lack of funding for new therapies. The Affordable Care Act and the Jobs Act combined have created a potential new source of investment capital that is now available for startup companies. Patient advocacy groups can now raise capital using the Jobs Act Regulation D to raise sufficient amounts of capital to make FOR PROFIT investments in startup technologies.
How Does the Jobs Act – Regulation D 506(c) Work?
Regulation D 506(C) is an unlimited amount of capital with a limit of 2,500 shareholder/investors until reporting to the SEC regularly (quarterly and with annual audited financials) are required by law. The other restriction is that only persons or families (spouse) with combined incomes over a $300,000 or a net worth, excluding primary residence, of over $1.0MM, qualify as investors under Regulation D 506 (C). According to recent information there are about 8 million people in the US that qualify under SEC rules as "qualified investors" but a vast majority of them either don't know that they qualify, aren't interested in qualifying or have never invested in startup companies. It is estimated that less than 500,000 individuals or family units do this kind of private equity investing today. A part of this investing group is now known as 'angel' investors, gathering in groups of wealthy individuals and pooling their collective resources to raise initial capital for a startup. The problem with the angel groups today is that the capital initially invested in the drug area is a very small amount of the capital needed to advance a therapy or treatment to human clinical trials. Angel investments are typically in the $1-$3MM range and for that investment could consume up to 40% of the initial equity in a startup company.
Patient advocacy groups can also organize under an investment moniker to raise capital as a "for profit" entity under the "not for profit" arm of their advocacy groups and begin investment in startup technologies and companies. Using Regulation 506, patient advocacy groups can behave the same way that some venture capital groups have operated for years, using Regulation D as the route of raising new capital for their funds (from qualified rich donors). Patient advocacy groups for example can use a part of their funds to support promising research at their favorite institutions (not for profit function), augmenting National Institutes of Health sponsoring of research. This one-two punch research support of NIH coupled with Not-for-profit grants provides the catalyst for new ideas, concepts and therapies through understanding of primary biological, chemical, structural and mathematical data and systems. In addition, a portion of their raised investment capital (the for profit advocacy group) can be used to invest in new therapies from discovery through New Drug Application approval by the US FDA or other similar regulatory body across the globe.
What Makes a Good Investment Target?
The only investment target that we know something about is our own development pipeline and we will use this opportunity to provide an example of why a pipeline approach to drug development is a risk lowering strategy; as it is used by the well-financed and operating pharmaceutical and biotechnology companies and often ignored as a strategy for a startup by venture capital. It doesn't have to be ignored by investors. The restriction of direct investment in startup companies and technologies if you qualify as an investment advocacy group or as a family or individual has been streamlined by the Jobs Act. The good news is that startup valuations in health care are still very low and have not hit the stratospheric pricing for pre-IPO stocks such as DropBox (valued at $10 billion prior to an IPO), a cloud based file sharing company. Most biotech startups are priced in the $10 to $20 million pre-money if they don't have revenues, if they build revenues or close transactions; the valuation rises but not exponentially, rather more rationally. Usually when a startup gets acquired by a larger company, the valuations are often exponentially increased as pharma companies tend to price in future earnings of the acquired company in a buyout.
According to Life Science Nation (LSN) and its CEO and founder, Dennis Ford "it's raining investors" in early stage clinical development projects (http://blog.lifesciencenation.com/) and here are two graphs extracted from his blog to highlight the interest expressed by investors who are signed up with LSN.
Followed by a chart that is the result of one-on-one interviews by LSN staff with the investor group highlighted above: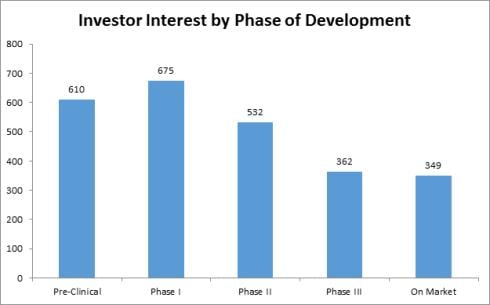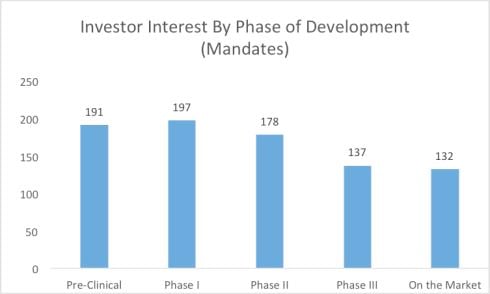 This can be good news for startup companies that have pipelines of development products and projects for at-risk patient populations. Reducing risk in early stage development projects in a startup company are crucial to moving a company forward, creating increase valuations for the early investors and completing strategic partnerships to help fill out the gaps in drug development, reducing risk and hopefully producing positive clinical product data.
Diversity of Revenue Streams!
When considering an investment in a biotech, early pharma or a lifescience startup; take a look at the product life cycles and depth of product line diversity within the company. In GLG Pharma's case, we are already internationally diverse. We are negotiating a strategic partnership for drug development and approval of our lead product GLG-302, a p-STAT3 inhibitor that reverses Stage 4 chemotherapy resistant tumors and may allow for additional chemotherapy treatment. Market segmentation by regional partners is a good way to diversify risk and in our case, it provides us with a reliable partner in another part of the world that we would be unlikely to go to in the very near future. Providing your partners with access to your equity, product lines and development pipelines, creates meaningful incentives for shareholder risk reduction.
An additional deal is underway in Europe, particularly in France where GLG Pharma, SAS is based. The SAS company will license an approved therapy treatment for actinic keratosis (precursor to skin cancer) and sell into France. Additionally, GLG-801, 302 and 202 are being formulated into patent protected formulations for dermatological applications. Our partner in the EU will formulate GMP material, check stability and provide samples to us for early proof of concept treatment under a physician's Investigational New Drug program. Once proof of concept data confirms our scientific hypothesis, that the drug as a p-STAT3 inhibitor will work, then full clinical development will begin. First approval will be in Europe and the two companies will partner the drugs across the globe. GLG Pharma, SAS retains rights for France; our partner has rights for Germany, Austria, and Swiss speaking Switzerland, Japan and the UK. All other countries are partnered with a 50-50 split of profits.
GLG-801 is a repurposed drug (already approved in another indication) that will have a faster time to market with the new skin formulation. The next product will be GLG-302, a New Chemical Entity. Following closely behind GLG-302 will be GLG-202 a rationally designed, composition of matter drug candidate. In addition, GLG Pharma has a diagnostic to monitor p-STAT3 during clinical and following drug approvals. Combining drug therapy and p-STAT3 diagnostic as well as other clinical marker monitoring, can perhaps reverse drug resistant tumor cells and make them more vulnerable to additional chemotherapy treatment!
The GLG Pharma Pipeline
Graphically we can represent the pipeline several ways: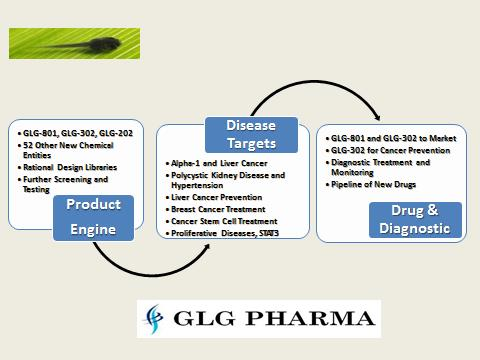 Diversifying a product pipeline across different diseases is also a way of reducing risk.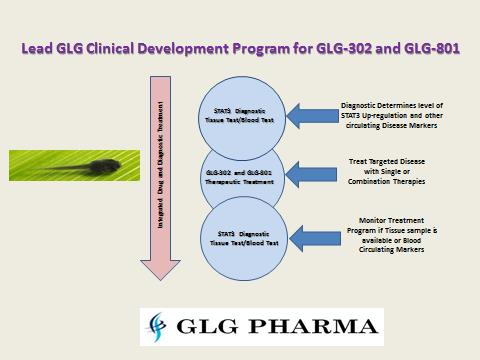 In addition, combining the strategy of ready to go to market products helps the company become an integrated company that has all the elements of a larger, fully funded pharmaceutical or biotech company with global initiatives and partners. Developing products within the treatment market for diseases is a global team effort, requiring a cross section of expertise usually not found in one single startup management team. While the GLG team has over 110 years of combined experience and has 15 approved drugs and 30+ diagnostics in the market, the core team still requires additional team members to advance its risk reduction strategy. Want to learn more about making a difference? Go to Poliwogg or visit our web site at GLG Pharma. We'll also be at the International Bio Conference in San Diego partnering away!