Ok, so in one of my past lives, as a member of our team at Pharm-eco Laboratories and with an excellent team at Vertex, together we worked on and helped advance Vertex's Amprenavir (GSK's Agenerase) which is now known as Phosamprenavir. Amprenavir used to be known as VX-478 and we did scale up process development under cGMP and made a couple of tons of API. The discovery projects we worked on were mothballed or sent to someone else, who knows.
Vertex bought Aurora in 2001 for an all-stock deal of $600MM and inherited the cystic fibrosis project in 2001. Aurora started in 2000 working on the project with the Cystic Fibrosis Foundation. The first capital investment by the CFF was $40MM to Vertex, the new landlord of a plethora of new screening technologies.
The real point of this blog is this. $150MM invested in the Vertex technology over a nearly 13 year period, so about $11+ MM a year, average and the Cystic Fibrosis Foundation get back $3.3 Billion!
So, we know the last two years sales for Vertex were $371MM and $470MM and assume that Vertex agreed to a 9% royalty (just a guess, it could be lower) to the Cystic Fibrosis foundation, then over a FIFTEEN YEAR (we added two years, one year on either end for negotiations etc.) period, giving the current payout, the Net Present Value of the $150MM investment; if you did the investment all at once with a discount of 8% over the period, is $915 million! Is that good enough for a VC firm? I don't know but it sure is good enough for me!
For more information on the deal, please go to an excellent article by Xconomy's Deputy Biotech Editor Ben Fidler at http://www.xconomy.com/boston/2014/11/19/cf-foundation-cashes-out-on-kalydeco-in-3-3b-sale-to-royalty-pharma or just click on the picture below (also from the article by Ben Fidler, Thanks!).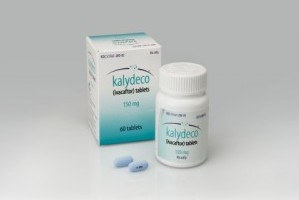 So why pay $3.3 billion for a drug that has a small market potential? Or a portfolio of drugs with a small market potential? Well, because it isn't a small market potential! The disease target is also present in a variety of sub, less toxic and less lethal diseases and the mechanism is spread across much wider populations around the globe! Vertex was formed when Josh Boger came out of Merck and having worked for Merck back when Roy Vagelos ran the company, he had and still has a very impressive personal activity in promoting drug discovery and development in New England and around the world. I remember visiting Vertex for the first time when there were only 40 employees. Most of them were ex-Merck and ex-Biogen…great team!
The drug targeting philosophy that Vertex probably does maintain to this day is identify mechanisms of targeted therapy that could have broader applications in other diseases and focus on the rare diseases to get the FDA's attention, fast track, cut time to market and then get the drug approved sooner rather than later. Well Cystic Fibrosis took a lot longer but the payoff was worth it for the foundation. Why is this model important? Because the foundation now has enough cash to really pour some capital into finding a cure, which has always, been their goal as it is for many other foundations. $3.3 billion sets up a heck of an annuity stream!
Bottom line message is that this is a great case study and business model for a new way of funding biotech and pharma and that could revolutionize our industry! It's not just a 'buyout' it is a reward to the committed not-for-profit groups that slog day after day against the insurmountable odds of the disease to raise capital for research and development for new therapies, against diseases that are unforgiving, ruthless and terminal. But this time, ~ thirteen years later, they are delivering on their commitment! Two new drugs for cystic fibrosis patients and the foundation now has a ton of capital to use for protecting its objective from the vagaries of the markets and funding drives for the next fifteen years or more! Congratulations CFF and congratulations to the team at Vertex, congratulations Josh Boger!
If you want to find out more about funding development of new pharma and biotech, visit http://www.poliwogg.com and also go to Faster Cures at: http://www.fastercures.org
GLG is developing a series of STAT3 inhibitors to treat orphan diseases particularly: Chronic Lymphocytic Leukemia (CLL), Polycystic Kidney Disease (ADPKD), A1- Antitrypsin deficiency and Gastrointestinal Stromal Tumors (GIST)! If you want to find out more about GLG Pharma and our pipeline of products, visit us at http://www.glgpharma.com or email me at rgabriel@glgpharma.com
Cheers and as I have had the privilege to say to our soon to be former governor, Deval Patrick, 'There is a better way to fund biotech'!